Spaces
Virtual spaces for great remote teams
Your hybrid and remote teams deserve the same work experience as your in-office teams. Give all your people amazing culture-building office space, wherever they work.
Thanks for signing up,
we'll be in touch shortly!
Great work isn't just about connectivity,
it's about connecting
See what teammates are working on
Join the right conversations
Connect any time via video, screenshare, or chat
Build trust among your colleagues everyday
Ask for and receive help easily
Watch team productivity and satisfaction soar
What users are saying
"I feel a sense of togetherness, even when I'm working by myself."

"Seeing what everyone else is up to helps me feel connected."

"We deserve a better remote worklife than just hopping from call to call and typing in chat."

"Everyone is one click away - no need to schedule a meeting for a quick question."

"I can always get immediate feedback and help from a peer - like a shoulder tap!"

"As a leader, I love having visibility into who is working together, and on what."

"More casual collaboration, fewer scheduled meetings, better work!"

"As a stakeholder, I love connecting to the right conversations in real time, not in weekly status meetings."

"I now have fewer unnecessary meetings, am more productive, and feel more energized."
Lobby

Scan the floor to see what your teammates are working on

Teams can self-organize into project rooms, offices, and conference rooms, and each room indicates what is happening.

Conference rooms

Get everyone together for a presentation or all hands

Our conference rooms can accommodate your entire organization and there's always another room if you need it.

Project rooms

Get things done in project spaces built for collaboration

Use collaborative whiteboards and screen shares, pin resources, listen to shared playlists and let your teammates know what you're working on and when to stop in to give feedback.

Personal offices

Set aside some focus time or plan a private 1:1

Stake out your own space with a private office for heads down work and privacy. Let the team know when your door is open or closed.

Whole enterprise

Each floor can house multiple teams or functions

We can scale up to accommodate your whole organization with multiple floors, departments or locations
Checking your teammates' availability is
as easy as glancing across the room
Announcements let you quickly grab
the attention of your teammates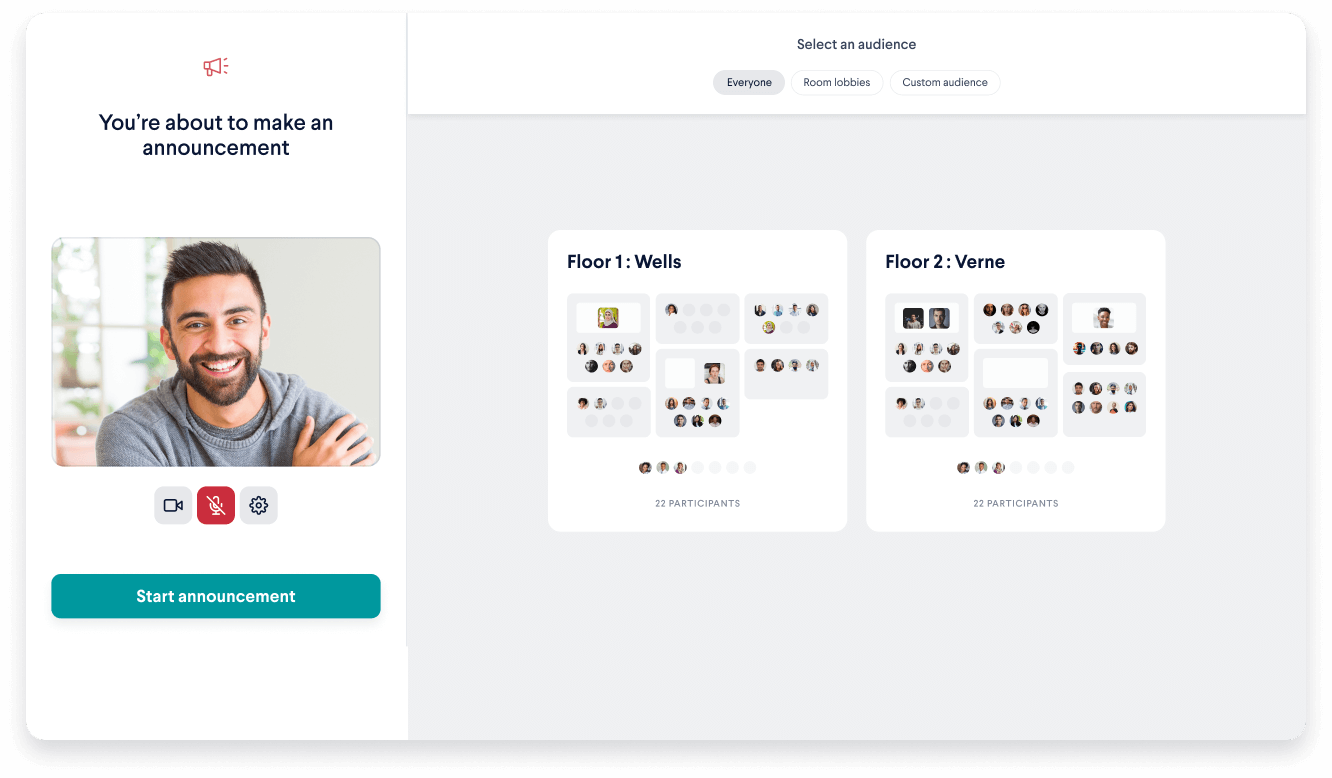 Synergies and tools from the office,
available to all, from anywhere
Get on the same page
Multiple screenshares

Everyone can share their screen at the same time, making collaboration and pairing on a project easy and fluid.

Slack integration

Keep up to speed with what your team's up to in Frameable Spaces via our simple Slack integration.

Unlimited virtual floors and rooms

Expand your virtual office to have as many virtual rooms as you need.

Ad-hoc conversations made easy

Pop into a virtual room for a quick spontaneous chat. Invite others to join with just a click of a button.

Recordings

Record your meetings to save or share at a later date

Calendar integration

Synchronized schedules between Frameable Spaces and your Google Calendar
Connect with your colleagues
Collaborative games

Play games together while you wait for meetings to start

Emoji reactions

Use live emojis reactions for casual, non-verbal reactions

Robust chat

Channels, threads, attachments, markdown, DMs, and all that you expect

Background music

Get creative juices flowing with background music in project rooms

User profiles

Learn about your colleagues and teammates with customizable profiles

Guest passes

Give limited access to partners and clients
Bring your entire organization online
No downloads required

Works in Chrome, Firefox, Edge and Safari, with mobile support

Single-Sign On (SSO) support

Integrate with Google, Microsoft, or your own internal OAuth or SAML provider

Private and secure

Communications and data are encrypted and only accessible by you

Customize everything

Branding, colors, backgrounds, floor plans, etc are all fully customizable

Dedicated hosting

For larger organizations, we support dedicated infrastructure

Organizational metrics

Track engagement, project time, and measures of organizational wellbeing
Don't make do. Make your virtual workspace Class A.
Learn more