After three years of remote work, more than 80% of employees agree that their overall wellbeing has improved because of remote and hybrid working arrangements, and 64% would even look for a new job if their employer made it mandatory to return to the workplace full-time. 
But as many teams have learned the hard way, simply allowing employees to work remotely does not mean you are providing a great work experience. Just as with the physical office, your virtual workspace needs someone charged with making your company a great place to work. 
In this blog post, we explore a new essential company role: the virtual office manager. Read on to learn about which organizations may benefit from hiring this position, what a virtual office manager's day-to-day job entails, and what to include in your job description to attract the right candidate to your remote team.
Who Needs A Virtual Office Manager
If you are a team of two or three, a virtual assistant may be a better role to add than a virtual office manager. But, if you have five or more remote workers using one or more digital technologies to collaborate, it's worth evaluating if a virtual office manager makes sense. Ask yourself these questions to decide if a virtual office manager is a good fit for your team:
Do our executives spend significant portions of their day on administrative tasks? 
Is our company growing quickly? 
Are we disorganized in our processes and systems?
Do we make it a priority to address our employees' needs quickly and effectively?
Is our general company email inbox overflowing?
Can we bring on a new team member, given our financial situation?
If you answered no to any of these, it might be beneficial to spend some time developing your remote work policy—we share five steps to get you started here. On the other hand, if you answered yes to all the above questions, read on to uncover your path to hiring the right virtual office manager. 
What Does a Virtual Office Manager Job Entail?
Virtual office managers can complete many tasks to free up your executive team's time and support your remote employee needs.
A virtual office manager job will greatly vary company by company. But a few things a virtual office manager can do include:
Handle all internal communications
Plan and manage company events
Support finance teams with billing and payroll 
Onboard new employees
Assist with tech setup and support
Research new office software tools and solutions
Coordinate the use of software tools across teams
Arrange executive travel
Book appointments and meeting spaces
Field and manage any inbound emails from prospective clients
Create guides and how-to docs to improve the employee experience
An office manager was previously seen as a luxury for smaller offices. However, one of the many benefits of remote work is it allows companies to find the right full or part-time office manager, without any geographic restrictions, to fit their budget. This makes it significantly easier to justify adding this much-needed support to your team. 
Before you bring on a virtual office manager, you need to understand how they will help your team. Align your cross-departmental leadership to understand what you're looking for in a virtual office manager. What is your goal for hiring a virtual office manager? Will they support your executive, HR, and finance teams? What specific tasks does the team need them to handle?
Document the various responsibilities you envision for your virtual office manager and identify who they will report to. This background will help you to prepare your job posting. 
Key Elements of a Virtual Office Manager Job Description
Most of the current virtual office manager job openings are positioned as an office manager that works remotely. That works, but there's room for the job to evolve and reflect its unique role in the future of work.
We recommend you include these elements in your virtual office manager job description: 
Your company description: What does your brand do, and what do you seek to accomplish? A compelling company description can help candidates understand if they connect with your company's mission and purpose. 
Time commitment: Is this position full-time or part-time? When will your office manager be expected to work, and in what time zone? Be specific in this section so candidates can decide whether the time requirements are right for them. 
Key responsibilities: What do you expect the office manager to do? Provide as many details as possible, including possible day-to-day and recurring duties. For example, if several departments will share your virtual office manager, it could help to disclose what portion of their job will be spent on specific needs (such as 25% on executive support, 25% on HR administrative tasks, and 50% on general office management). 
Soft and hard skills: What are the required skills for the job? Consider both hard and soft skills, such as prior experience in your field or familiarity with specific programs, as well as ideal behavioral traits like an eagerness to learn and being a problem solver. 
Virtual office tools: What tools power your remote office? List any platforms the virtual office manager will need to use or champion—but remember that an ideal candidate can quickly learn how to use your tools, regardless of prior experience. 
Expected salary or pay rate: Some states require you to post a salary range with any published job listing. Even if a state does not require this, your candidates will appreciate it, and it can help filter out candidates seeking higher compensation.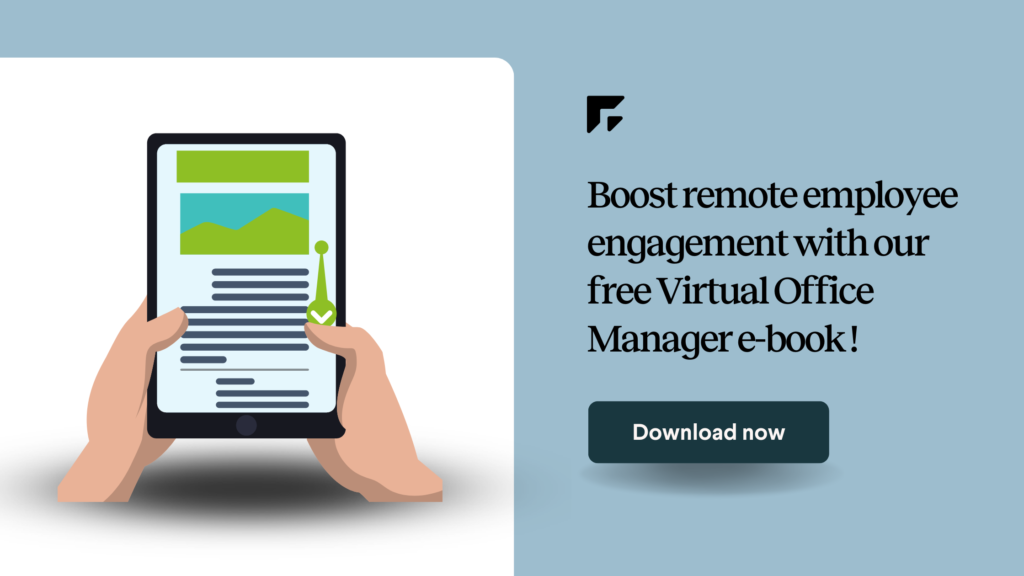 Give Your Team a More Engaging Virtual Workspace
The virtual and hybrid remote experience will increasingly become a competitive differentiator for brands, but there's one team hire that could give you a serious advantage—a virtual office manager.
Virtual office managers play an integral role in orchestrating your remote work experience and ensuring your employees can thrive. The job varies across companies, and a virtual office manager can help with everything from administrative work to key culture activities that strengthen your team morale.
Having the right team for remote work is essential for protecting your business, but you can't forget about the tools you use to connect.
We've built Frameable Spaces to provide online spaces for modern remote work, empowering teams to self-organize and interact just as they would in the physical office. Learn more about what your team can do in Frameable Spaces and try it for free today: https://frameable.com/spaces