Are you doing enough to ensure remote team members are set up for success?
Quickly and effectively onboarding remote team members is a lot easier said than done. It can be hard to make sure they feel welcomed, comfortable, and ready to hit the ground running when your first meet-and-greet is through a screen. But it can be done! Here's how our fully remote team has learned to run the most effective onboardings into our virtual office and workstyle.
Share Common Verbiage, Workflows, and Meetings
The first day of joining a new team is scary enough without the added stress of learning new phrases, workflows, products, and projects. Sharing a document with common company lingo, meeting styles, and key project names right away will set your new hire up for a successful first few days. It will also make their transition into your team smoother by eliminating the need to ask others to define every term they hear. This will also aid in their feeling of inclusion from day one.
A recent McKinsey report found that since the COVID-19 pandemic, increasing employees' sense of inclusion in the workplace has become A recent McKinsey report found that since the COVID-19 pandemic, increasing employees' sense of inclusion in the workplace has become more and more crucial to maintaining a productive work environment for all — especially with so many now working a remote or hybrid schedule. Giving new employees a leg up on day one by laying out as much of the shared knowledge as possible is one of the most straightforward ways to ensure all new hires, regardless of location, feel included in their new team.
Initiate Relationship Building on Day 1
Make a point to have your new team member meet 1-on-1 with colleagues they will be working closely with. For smaller organizations, schedule time with all the employees! These meetings will be key to helping new team members get to know their coworkers and understand how their role fits into the bigger picture of your organization. Pre-scheduling these conversations makes joining a new team less daunting in addition to encouraging a culture of relationship building throughout your entire organization.
While using a virtual office for your hybrid or remote team comes with many benefits, oftentimes, teammates will navigate and use a virtual office differently. Having your team reach out to set up 10-15 minute meetings will provide the new hire with greater context to workflows and help them get acquainted with their new role. These quick meetings will also be a great introduction to how different hybrid or remote employees use your remote office and tools.
Encourage Engagement Throughout the Virtual Office
On a recent episode of McKinsey Global Institute's Forward Thinking podcast, Nicholas Bloom discussed how integral a sense of connection with colleagues is to creating a successful remote or hybrid work environment. It can be difficult for hybrid and remote new hires to know how to go about engaging with their new colleagues within a virtual office space. Modeling how your team uses your virtual office before sending off your new hire to do so on their own can accelerate their learning curve and invite more opportunities for them to engage with their new colleagues.
One of the main benefits of a virtual office is the visibility and reachability of your teammates. Encourage new hires to occupy a virtual office or desk, venture to different virtual "locations", and use statuses to convey their availability. Share how different team members use the space's functionalities and tools and encourage new colleagues to try out the various aspects of your virtual workspace to identify their preferences.
Pair Your New Hire With A Buddy for a Day
The first few days of a new job are typically filled with onboarding and administrative tasks. Once your new hire has completed these, pair them up with another colleague who shares similar responsibilities for a day. Encourage the pair to attend the same meetings, discuss their tasks, and frequently debrief throughout the day. Depending on the size of your organization, this can help speed up collaboration between two crucial team members, or give your new hire an established team member to reference when it comes to producing great work within your organization.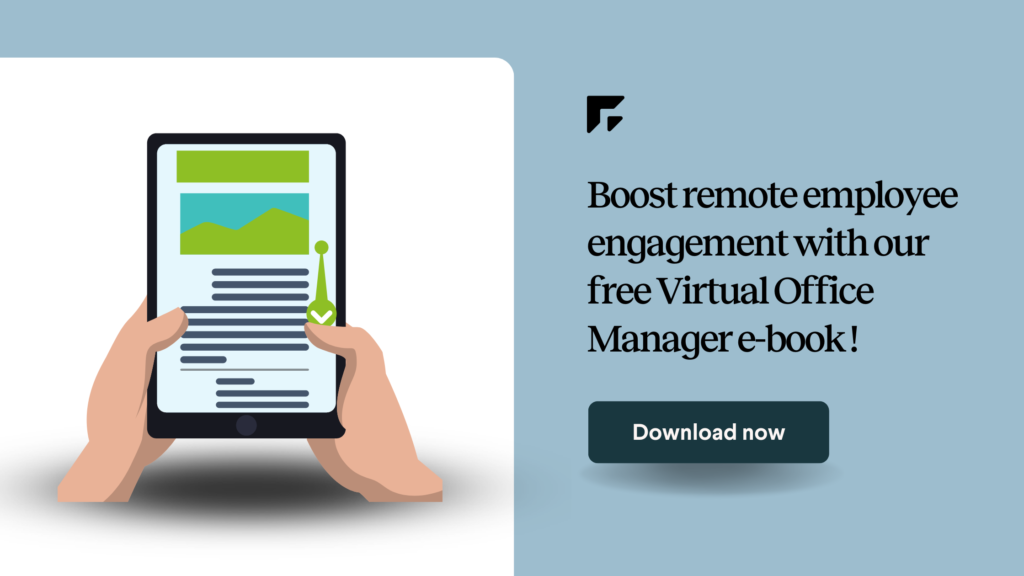 Setting your remote team members up for success does not have to be overly complicated. Learn how upgrading to Frameable Spaces can transform your virtual office and employee experience.